Discover more from Distribution Advocates
A movement to reclaim the means of distribution for independent storytellers
Over 1,000 subscribers
Distribution Advocates: A Cheat Sheet For Approaching Distribution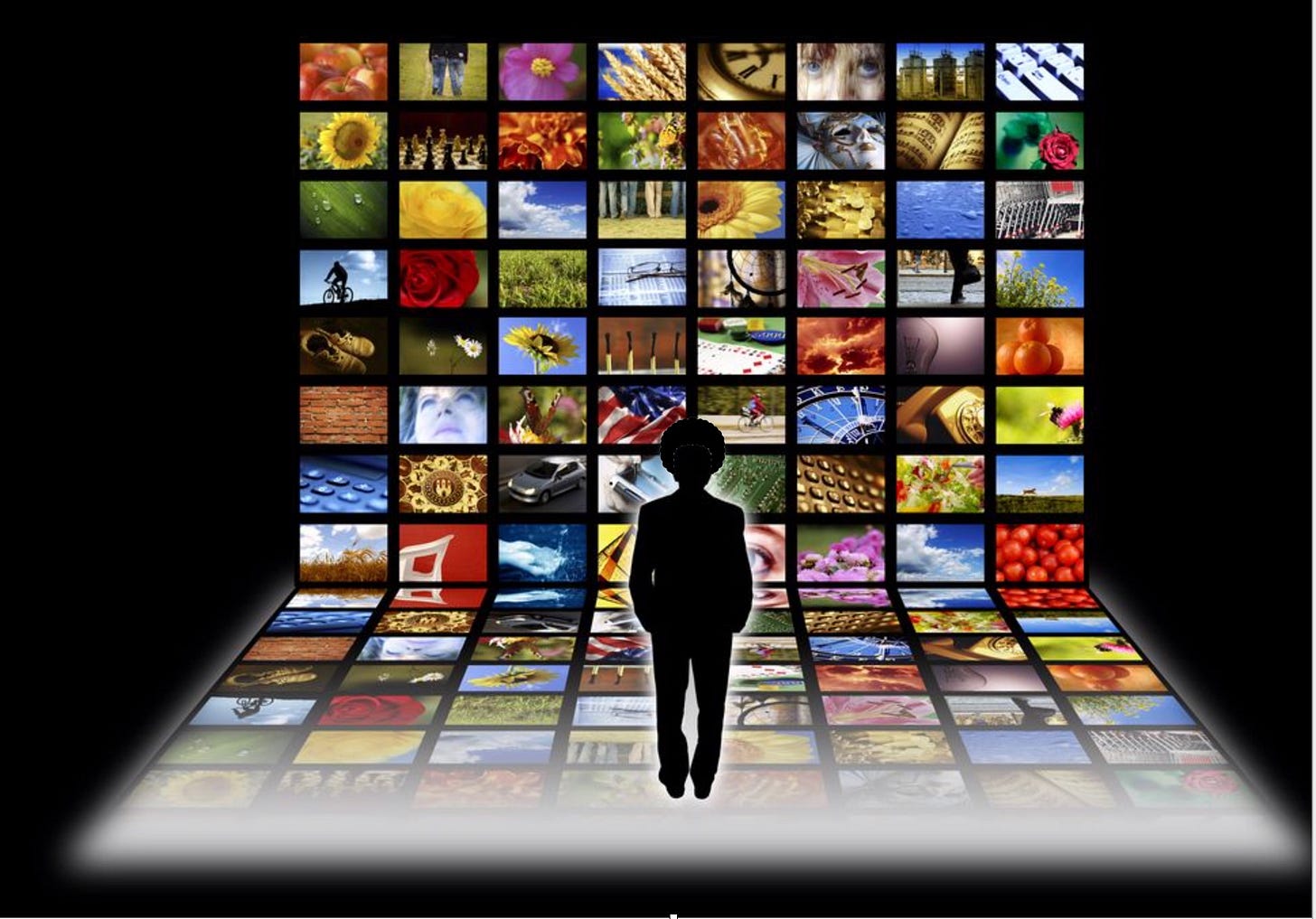 Over the past few weeks, six members of Distribution Advocates had the opportunity to engage in pointed discussion and report back with a short presentation for the International Documentary Association's (IDA's) Getting Real 2020 conference. The six members are Karin Chien, Carlos Gutiérrez, Amy Hobby, Sarah Kim, Avril Speaks and Abby Sun.
We narrowed our discussions to the flow of information around the acquisitions and distribution process.  Why isn't basic distribution knowledge reaching filmmakers? Why are the same myths upheld over decades despite panels, initiatives and online resources?  How can filmmakers be better armed with information in systems with asymmetries of power? 
The course correction is complex and diverse options lacking. 
Ok, but if there was a system whereby experienced trekkers could lead the way for filmmakers as they enter the mountain trail – it could mitigate a lot of damage.  Could we raise a fund to provide filmmakers with free one-on-one distribution advisors akin to patient advocates helping families navigate complex medical systems?  Distribution advocates? Reach out to us if you want to fund this!
Back to the task at hand, and with limited time, we decided to create a basic cheat sheet. This comprises much of the distribution guidance we provide for free to emerging and experienced filmmakers who ask us. We requested feedback from new and veteran filmmakers to find the best balance. 
As advocates for transparency, our group discussed including more numbers, percentages and names around common distribution practices. The field lacks consistent and accessible data. It's our hope that future distribution projects will provide robust and open source data as well as examples of exploitative norms and predatory behavior in the field. 
Here is our working document – ripe for more feedback and more insights.  
*****
This is a working document intended as a tool for independent filmmakers to parse distribution offers and negotiate licenses from a position of power. It is not meant as a substitute for legal counsel.
OVERALL CONSIDERATIONS
Objectives. It is always a good idea to align expectations with your team. Especially before going into a sales or negotiation situation. Prioritize your objectives: Is it reaching as wide an audience as possible? Is it reaching specific audiences? Is it maximum revenue generation? Is it increasing the brand of the filmmaker? Is it raising awareness and impacting policy? 
Know your speaking position. Distribution offers to acquire independent films are increasingly rare in the current saturated market. Nevertheless, if a distributor is interested in your film, remember you have power as the creator. Don't be afraid to ask questions and negotiate for terms that suit your needs. Don't be afraid to walk away from the deal, even if there are no other offers. In the long run, you may be better off retaining rights than being stuck with a distributor you're unhappy with. Self-distribution and service deals are other pathways, though they also require resources of capital, time, and labor. Consider reviewing existing case studies to learn more on these options.
What Is a Distributor? A distributor is an entity that will sell, license, or rent your film through existing relationships with exhibition platforms. A distributor creates and delivers technical and marketing assets to exhibitors. A distributor is responsible for the visibility of the film to an audience using publicity and marketing. Distributors take a percentage of the revenue and charge for certain expenses. A distributor can offer an advance (aka minimum guarantee) on sales, which is recouped from your revenue. A note on expectations: A distributor will not solve all of your problems. Do not expect to hand over your film to a distributor and walk away.  Expect to still do the work necessary to reach audiences, even with a distributor. 
What is an Aggregator or Digital Distributor? Many VOD platforms will only accept films through an aggregator or distributor. Aggregators take an upfront fee and deliver your film to platforms. Current examples are BitMax and Quiver. A recent shift has seen companies that started as aggregators now rebrand as digital distributors. They may release a small number of films theatrically, but they focus on digital exhibition platforms, and they spend much less on marketing and securing non-digital exhibition. Digital distributors take a percentage of your revenue.
Domestic and International Sales Agents. Sales agents are the intermediary to bigger distributors. Domestic sales agents take a percentage (10-15%) of the sales advance. Be aware of increasing demands for higher percentages, a percentage of gross receipts in perpetuity, or a minimum fee payable by filmmakers in case of no sale. International sales agents represent the film at festivals and markets (e.g. EFM, Cannes), take a higher percentage (25-35%, 50+% on festival fees) and deliver to distributors on your behalf. 
Film Festivals are a form of distribution. Distributors often approach festivals as part of a film's marketing and publicity campaign. If there are important festivals for you to screen in, negotiate those as part of the distribution offer. Film festivals can be a significant, if not primary, portion of a film's non-theatrical distribution life. Distributors and sales agents request non-theatrical screening fees from festivals. Filmmakers can too. A share of ticket sales or screening fees are acceptable asks. As festivals move into online or multi-location formats and some adopt revenue-sharing models, be aware that deliverables, terms, and territories are negotiable with festivals.
THE THREE DIMENSIONS OF A DISTRIBUTION OFFER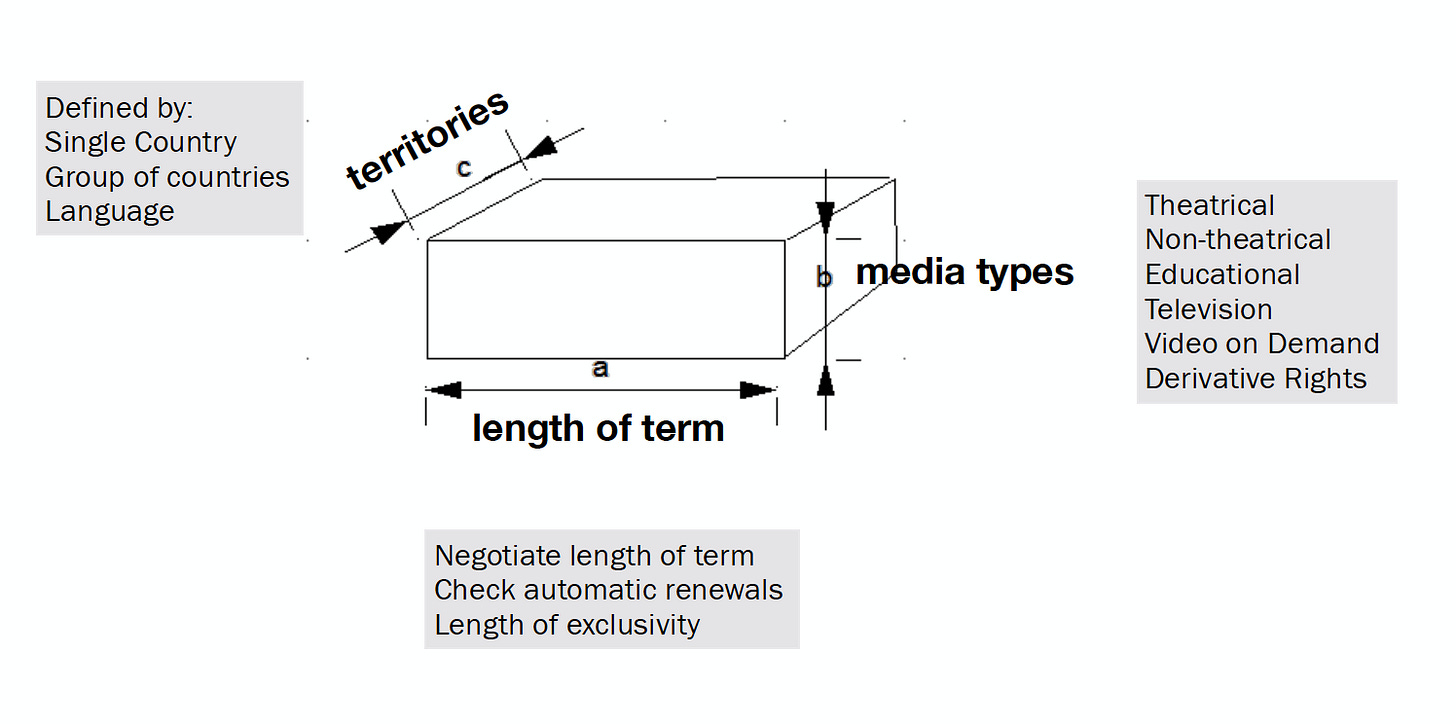 Length of Term.

If you can negotiate a shorter term, this allows for re-licensing opportunities. Be aware of any term of 10+ years as most revenue is earned in the first several years.

Beware of automatic renewal clauses, where the distribution contract automatically renews for the same length of term, and what triggers them.

Pay attention to the length of exclusivity, especially for digital rights.

Media Types. Know your distribution rights!

Theatrical. 

Non-theatrical (includes screenings at film festivals, universities, museums)

Educational (DVDs & digital licenses - an important revenue stream for docs)

Television (Pay, Premium, Basic Cable, Public, Free/Broadcast, Satellite)

Home Video (e.g. DVD) and video on demand: TVOD (transactional video-on-demand, ie iTunes) SVOD (subscription, ie Netflix) AVOD (advertising, ie Tubi), PVOD (premium). Note: there are constantly new categories of VOD types, e.g. MVOD (membership PBS) or FVOD (free). Don't be afraid to ask for clarification.

Derivative Rights (remakes, adaptations, prequels and sequels, character spinoffs, etc). Distribution deals should be a single picture license, which means you do not transfer derivative rights to the distributor. Derivative rights should not be included without additional compensation, e.g. a hefty sales advance.

Research the strengths of the distributor. Many distributors specialize in specific media types. Be aware of all rights licenses. If you suspect a certain media type is not in the distributor's strength, consider exploiting those separately. For example: 

If your distributor does not typically sell to educational markets, ask to carve out those rights so you can license or better exploit them. 

Ask for non-exclusivity for a media type not in the distributor's strengths. 

Consider the option of dividing media types to different distributors. 

For all-rights deals, consider specifying that any rights not exploited within a certain amount of time (1-2 years) revert back to you. 

Be aware of signing away rights in media types that don't yet exist.
Territories. Know your territories!

Read carefully how a territory is defined. A territory can be a single country, it can be a group of countries, or it can be organized by language.

Be aware of which territories the distributor operates within. Consider carving out territories (countries or regions) they don't operate fully within. 

Be careful of licensing away territories based on language, e.g. all French-speaking or all Spanish-speaking territories. This will conflict with distribution licenses in which territories are defined by region, e.g. a license for Caribbean rights. 
THE IMPORTANT FINE PRINT
Meaningful Consultation. This is what most distributors offer on key marketing assets (trailer, poster, copy). It means you have the opportunity to provide feedback, but there's no obligation from the distributor to incorporate your consultation. This fine print actually takes away a filmmaker's ability to decide on marketing assets.   
Cross-collateralization. This is when a distributor will use revenue from profitable streams, like educational sales, to pay back losses incurred for a losing stream, like theatrical release. That prevents revenue from reaching filmmakers sooner. For an all-rights deal, this can be tough to avoid. You can try to push to "uncross" a specific right, e.g. educational. Be especially aware of a license that crosses your film's revenue with a distributor's entire catalogue.
Sub-licenses.  Many licenses allow a distributor to enter third-party sublicenses that extend beyond the term of your distribution contract, meaning the distributor may potentially hold sub-licenses past the contract expiration. Make sure you are not paying a second distribution fee to the sub-licensor, as this should be incurred within your distributor's fee.
Library builders.  Be aware of distributors who are seeking out your title to build a library of films to later re-sell down the line. It's possible an entire film library can be re-licensed to an unknown or inexperienced distributor. Tip offs may include the request for longer terms (10+ years) or resistance to carve out territories where they have no track record. You can also search for press releases to find out if the distributor is buying other catalogues of films.
Release From Agreement. Consider clauses that allow "automatic" termination (without arbitration) if a distributor fails to submit accounting reports or royalties, even after notification. Ask what happens if the distributor goes out of business.
Delivery.

Many producers spend 6-12 months delivering their films. Take the time to negotiate the delivery schedule to mitigate unnecessary work and costs. Distributors have template delivery schedules and many are outdated.  

Delivery schedules are divided into three categories. Material (Technical), Legal and Publicity. The technical items are often negotiable. Start by asking what that item will be used for, whether an alternate (and more affordable) format is acceptable, and whether that item can be contingent on whether it's needed, ie an "as needed basis."

Key elements required for delivery and distribution include:

High-resolution digital files and sound mix

Closed caption / subtitle files

High quality publicity stills

Press kit materials

Legal documents including chain-of-title and all releases

E&O insurance, which is negotiable only exceptionally
WE HIGHLY RECOMMEND THESE LINKS
We Spoke to Dozens of Distributors; This is What They Want in A Film (Feb 6, 2020, Sundance Institute) by Liz Manashil and Rebecca Green

The Cost of Distribution (Jan 19, 2019, DearProducer.com) by Avril Speaks

Digital Distribution Guide for Documentaries by The Film Collaborative